Explore Caño Island
from Uvita!
Experience the Enchanting Underwater Realm of Isla del Caño with Our Recommended Scuba Diving Tour!
Explore Caño Island
from Uvita!
Experience the Underwater Realm of Isla del Caño with Our Recommended Scuba Diving Tour!
Connect with Caño Island
Welcome to an extraordinary diving experience like no other! Discover the breathtaking beauty of Isla del Caño, located off the coast of Costa Rica, as we recommend you embark on an unforgettable scuba diving adventure with expert-guided tours.
Unveil the Secrets of Isla del Caño's Pristine Waters: Nestled within a protected nature reserve, Isla del Caño boasts crystal-clear waters teeming with vibrant marine life and awe-inspiring coral reefs.
As a highly recommended destination for diving enthusiasts, this stunning island is a haven for aquatic creatures, thanks to its limited tourism and protected status.
Included in this Tour
Price
2 tanks for / IVA included
Encounter an Exquisite Array of Fascinating Marine Life
Prepare to be amazed as you dive alongside magnificent manta rays, playful dolphins, mesmerizing reef sharks, and the graceful presence of rays gliding effortlessly through the waters.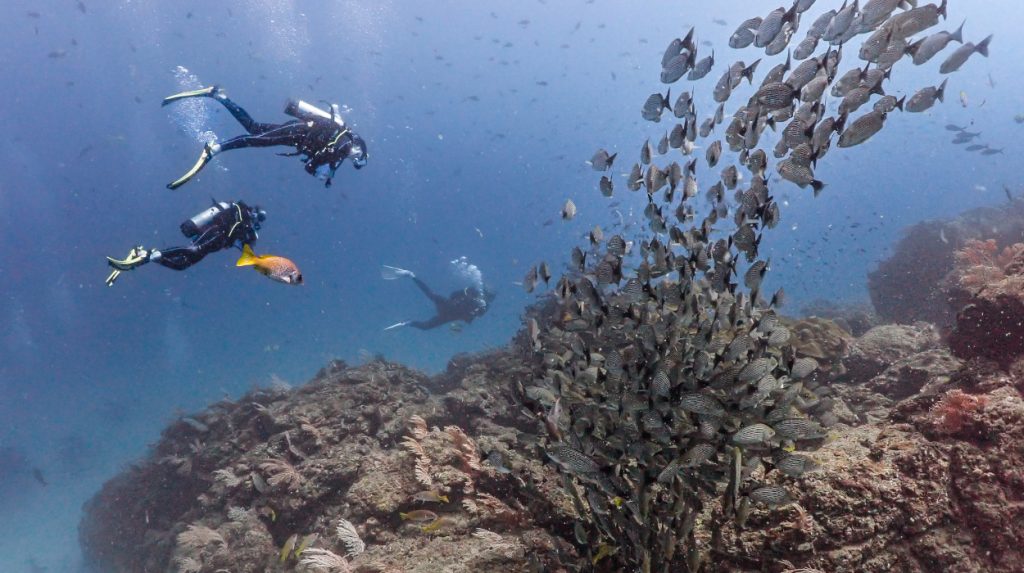 Isla del Caño's rich biodiversity presents an incredible spectacle, with vibrant schools of fish darting around, while the occasional appearance of majestic whales gracing the depths with their awe-inspiring presence.
This underwater world promises an up-close encounter with the wonders of the ocean, where each dive reveals new and captivating marine marvels.
During certain seasons, lucky divers might even witness the graceful dance of mantarays, adding an extra layer of magic to this already enchanting experience.
Convenient Departures from Uvita
Let your journey begin from the charming town of Uvita, the gateway to Isla del Caño's aquatic paradise. With just a short one-hour trip to the island, Uvita provides the perfect starting point for your scuba diving expedition.
Guided tours from Marino Ballena National Park are available, granting you access to the region's protected areas and showcasing the natural treasures that surround you.
Immerse Yourself in Nature's Bounty
Whether you're a seasoned diver or a beginner, the recommended scuba diving tours cater to all levels of experience. Knowledgeable guides will ensure your safety and provide an enriching experience, allowing you to fully immerse yourself in the wonders of Isla del Caño's pristine diving spots.
Don't miss the chance to embark on this once-in-a-lifetime adventure! We, as your travel agency, strongly recommend booking a scuba diving tour to Isla del Caño, and we'll ensure you have all the information you need to experience an extraordinary and unforgettable journey into the depths of Costa Rica's underwater wonderland.
Embark on an unforgettable journey with our recommended Isla del Caño Diving Tour !
As the day begins bright and early, you'll be mesmerized by the majestic panorama of the Costa Ballena during the transit.
This unique region of Costa Rica offers a stunning blend of Pacific Ocean waves caressing the shores of the coastal mountain range, creating a breathtaking coastal experience.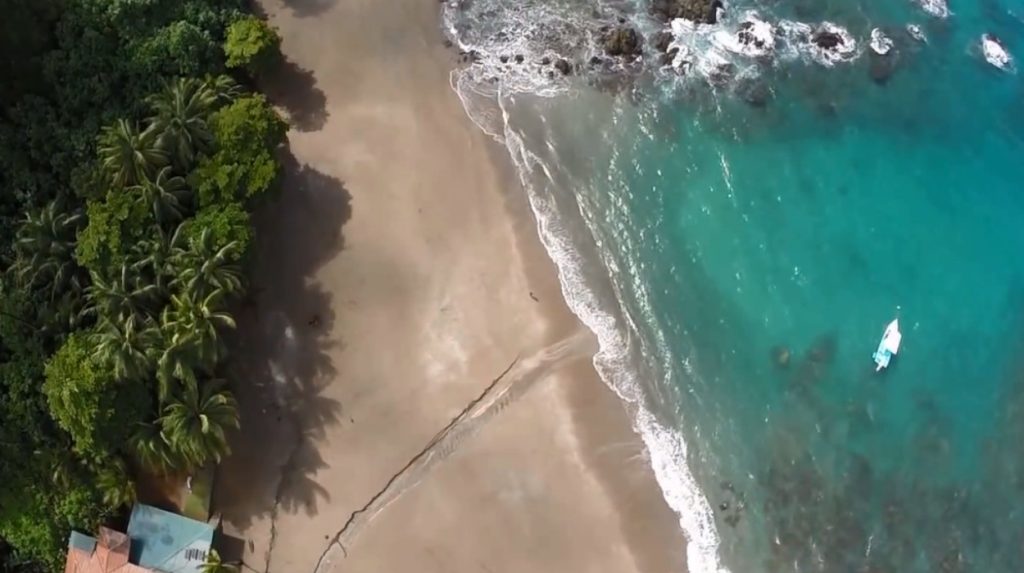 Keep your eyes peeled, as dolphins and whales are often spotted along the way, adding an element of wonder to your trip.
Upon reaching the island, get ready for two thrilling dives at carefully chosen locations.
Our recommended tour operators, who are knowledgeable Captains and Divemasters, will consider the island's conditions to ensure you have the best diving experience possible.
The abundance and diversity of Costa Rica's marine life that you'll encounter on this tour are truly astounding. The experience is so incredible that you might find yourself wanting to reserve your spot for the next day's tour without hesitation!
For your comfort and safety, the recommended tour operators operate with small groups, maintaining a friendly, intimate atmosphere throughout the Caño Island Scuba Tour. If you're seeking the finest scuba diving experience in Costa Rica, Isla del Caño is the ultimate destination.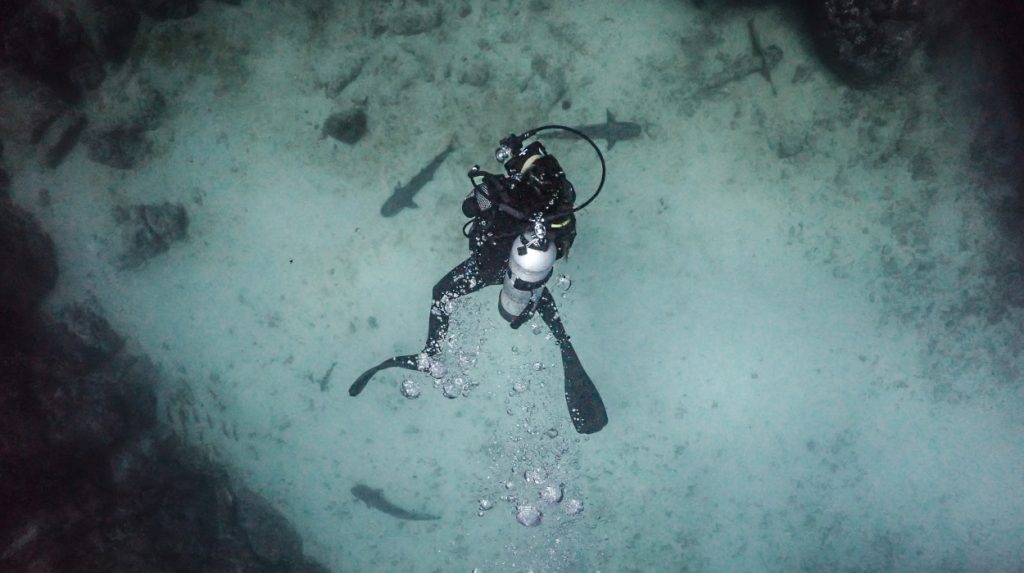 If you're a certified PADI diver, dive right into our recommended Caño Island Scuba Diving Tour to explore the wonders beneath the waves. And if you've never experienced diving before, don't worry! Check out our recommended Caño Island Discover Scuba Diving Tour page for an opportunity to dive into this exciting underwater world for the first time.
Whether you're a seasoned diver or a curious beginner, Isla del Caño promises an extraordinary adventure for all! Leave the tour arrangements to us and get ready to create unforgettable memories on this captivating scuba diving experience.
What to Bring? Preparing for Your Exciting Scuba Diving Adventure:
To ensure a seamless and enjoyable trip, here's what you should bring on board:
Remember to pack your scuba diving license, towels, and cameras. Rest assured, the onboard facilities provide ample dry space to keep your belongings safe. We recommend carrying some extra cash for tips or any additional services you might require during the excursion.
Prioritize your well-being during the journey by staying sun-safe with sunscreen and a sunhat.
If you tend to get seasick, it's a good idea to take motion sickness tablets before boarding. For personalized medical advice, consulting a pharmacist or your doctor is always a wise step.
Bear in mind that ocean conditions can get rough and windy, especially on the return journey, which might lead to a wet and bumpy ride. However, the thrill of the experience is part of the adventure!
To expedite the process, kindly have your diving license ready to show the staff when completing paperwork. If needed, we can arrange pick-up from your accommodation for added convenience.
How to get to Uvita?
To get from San Jose to Uvita in Costa Rica, you have a few transportation options including buses, shuttles, and driving. Here's a general outline of each option:
Bus:
You can take a bus from San Jose to Uvita. The trip usually involves a few transfers, and it might take some time. You can take a bus from the Tracopa terminal in San Jose to Quepos, and from Quepos, you can take another bus to Uvita. It's a good idea to check the schedules in advance.
Shuttle:
Shuttle services operate between various destinations in Costa Rica, and you can find shuttles that run between San Jose and Uvita. These shuttles are more comfortable and direct than buses, and they might be a bit faster. It's recommended to book a shuttle in advance through a reliable transportation service.
Driving:
If you're comfortable driving, renting a car and driving from San Jose to Uvita is another option. The drive takes around 3.5 to 4.5 hours depending on traffic and road conditions. The most common route is taking the Costanera Sur Highway (Route 34) which offers scenic coastal views along the way.
Remember to check for road conditions, especially during the rainy season, as some roads might become challenging to navigate.
Always make sure to plan ahead, check for the latest information on routes, schedules, and road conditions, and consider your preferences for comfort and convenience when choosing your transportation option.
Where to stay in Uvita?
Contact our travel agency for assistance in booking your dream stay in Uvita. We'll ensure you have an unforgettable experience in this tropical paradise!
Cancellation Policy
Please note that reservations require a deposit for confirmation. A 48-hour notice is necessary for a refundable deposit. Cancellations made beyond this period will result in a non-refundable deposit.
Any transfer fees incurred during the trip will be the customer's responsibility.
We're here to make your diving experience smooth and enjoyable. Feel free to reach out for any further assistance!