Catamaran Charter to Isla Tortuga
A unique and private
experience onboard
Charter a Luxurious 40-Foot Catamaran in Jaco Beach
We offer the possibility to rent this beautiful 40-foot catamaran privately. It's ideal for families or groups of friends who want to experience a day full of fun in the waters of the Costa Rican Pacific.
It's important to emphasize that when renting the catamaran this way, only you will decide who accompanies you during the trip.
There are two options available to rent this catamaran: You can rent it for a half-day and visit a nearby beach or rent it for a full day and visit Tortuga Islands.
This vessel is unique in its kind in all of Central Pacific Costa Rica
It has different spaces to relax and sunbathe as well as a covered area in the shade equipped with a table. A kitchen with everything you need to prepare your food. Three cabins, each with a private bathroom at your disposal. BBQ area.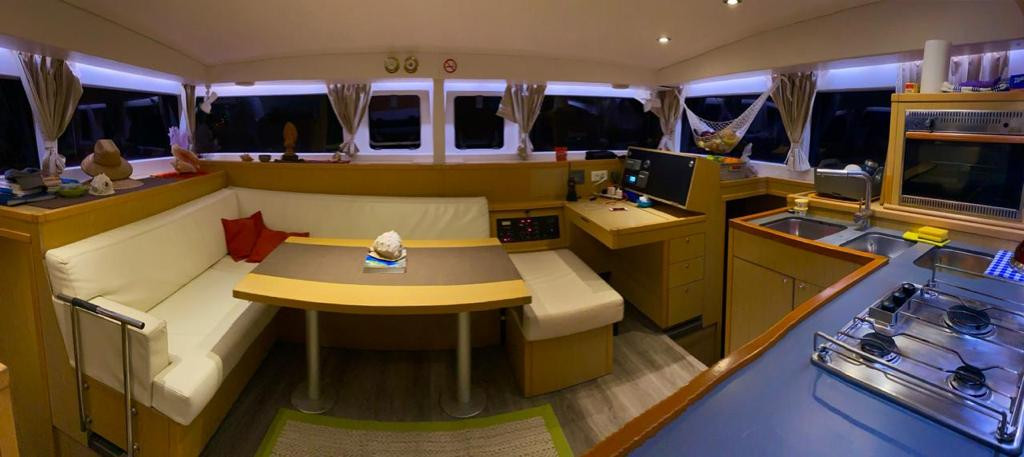 The rental of this vessel includes the company of the captain and sailor who will take care of all the details and keep your group always safe.
Activities that can be done during the trip
SAILING: Navigating through the calm waters of the Pacific Ocean is enriching in itself. However, there are other activities that could complement your trip:
STAND UP PADDLEBOARDS: The boat has 2 SUP that participants can take turns to visit nearby sites and beaches once the Catamaran anchors in its destination.
FISHING: We have fishing equipment on board and with a bit of luck, you could catch your own lunch.
SAILING WITH THE WIND: There is nothing more romantic and stimulating than sailing pushed by the wind. If conditions permit, it will be a pleasure for us to hoist the sail.
SNORKELING: We have snorkeling equipment on board with which you can explore underwater environments.
VISITING BEACHES OF INTEREST: Once we reach the agreed destination, the catamaran will anchor and allow you and your group of friends or family to enjoy the beautiful nearby beaches.
Halfday Shoreline Cruise
The activities start at 12:00 pm when your group will be picked up at Herradura Beach and taken on a small boat to the Catamaran in less than 5 minutes. If you want to coordinate private transportation from your hotel, this is possible.
Once on board, you will receive a welcome from the crew and after a brief explanation, we will set sail for one of the beautiful white sand beaches of the central Pacific.
During the journey, you can make use of the various amenities that the boat offers and will be accompanied by a sailor who will take care of your needs.
The boat journey takes about an hour and upon arrival, the boat will be anchored strategically so that you can enjoy both the beach and life on board.
During this trip, the boat offers drinks and snacks sufficient for all participants. We can also coordinate and personalize all your preferences.
Having parties on board is allowed, and we have a sound system ready for you. Once the beach time is over, we will return to the starting point.
When renting the boat privately, you are allowed to come in a group of up to 12 people. However, if your group is larger, for a small additional fee, you can bring more participants since the maximum capacity of the Catamaran is 25 occupants plus crew.
Cancellation Policy
Cancelation Policy details
Ready to sail in this beautiful Catamaran?
Explore other amazing Tours