Dive Catalina Islands
in Costa Rica
Your opportunity to dive alongside the majestic Pacific Giant Mantas !
Dive Catalina Islands in
Costa Rica
Your opportunity to dive alongside the majestic
Giant Mantas !
Connect with the Giant Mantas in Catalina Islands
Diving at Catalina Islands in Costa Rica is great opportunity to see the magnificent Pacific Giant Mantas.
Situated approximately 20 miles (30 km) south of Playas del Coco, these beautiful islands offer an unforgettable diving experience.
Our fully equiped boat will transport you to this underwater heaven in less than an hour, where you can witness the inspiring marine life and rugged beauty of the Catalina dive sites.
Included in this Tour
Price
2 tanks for $130 IVA included
An adventure for advanced divers
While the Catalina Islands provide a thrilling dive adventure, it's essential to note that these sites are more advanced in nature. Due to surge, stronger currents, and rougher surface conditions, divers should be prepared for a more challenging underwater exploration.
However, for experienced divers seeking an adrenaline-packed journey and an up-close encounter with the majestic Pacific Giant Mantas, Catalina Islands are an absolute must-visit destination in Costa Rica.
With our expert guidance and top-notch diving equipment, you can dive confidently into the depths of this captivating underwater world at Catalina Islands.
Half day Tour to Catalina Islands in Guanacaste Costa Rica
Explore the exhilarating Catalina Island dive sites with our expertly recommended half-day tour, perfect for divers of all certification levels.
From 7:30 am to 1:30 pm, this year-round excursion starts at our dive shop, where you'll embark on a boat tour to two different captivating dive spots around Catalina Islands.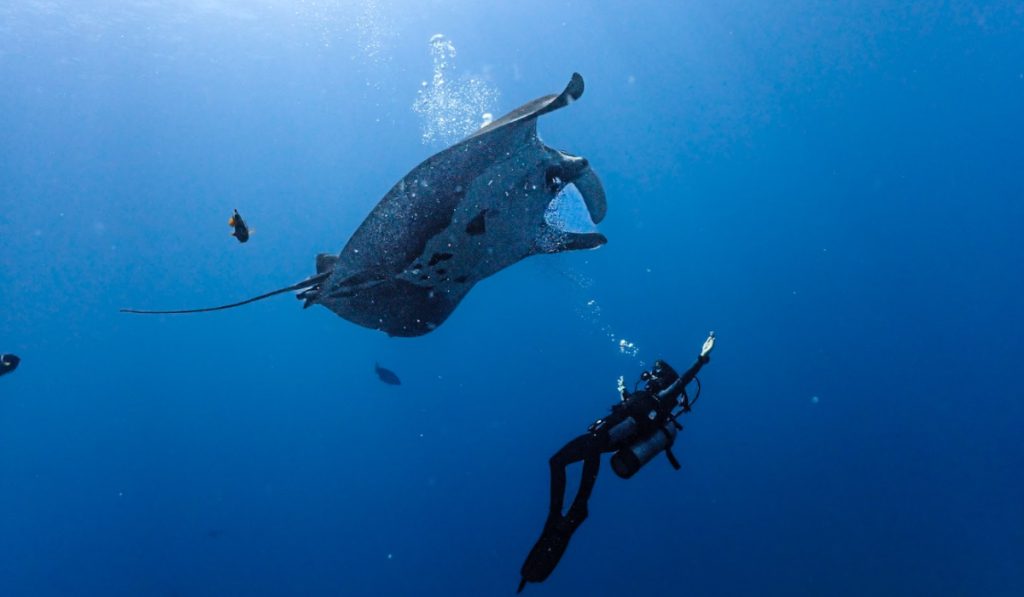 While suitable for all divers, we highly recommend this tour for certified divers with at least 15 dives and deep experience.
To ensure a smooth and enjoyable experience, we suggest having your last dive no more than a year ago or taking a 2-tank Papagayo dive one day before venturing to Catalina Islands.
During the 5-6 hours trip, you'll be equipped with 2 air tanks (80cf./12l aluminium) and weights, providing you with the necessary tools for an immersive underwater adventure.
Stay refreshed with soft drinks, fruits, and snacks provided on board, while our bilingual PADI dive instructor/divemaster guides you through the mesmerizing marine world. Our custom-designed dive boats with a canopy offer comfort and shelter, ensuring an enjoyable experience throughout.
Diving with Mantas
Venturing to Catalina Islands provides an excellent opportunity to dive alongside the majestic Pacific Giant Mantas, making it a must-visit destination for scuba enthusiasts in Costa Rica.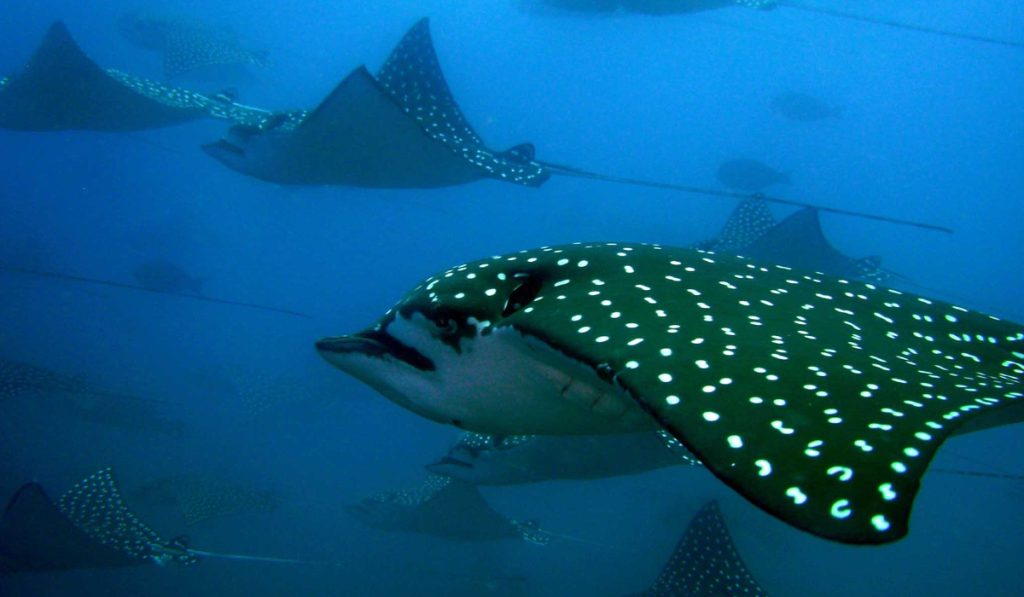 Our scuba diving agency recommends this thrilling experience, where you'll encounter surge, stronger currents, and rougher surface conditions, creating an adventurous and rewarding dive expedition.
Whether you're a seasoned diver or it's been a while since your last dive, our agency is here to help you enjoy a safe and enjoyable diving experience, complete with the unforgettable beauty of Catalina Island's underwater realm.
Restrictions for Junior divers
Please note that divers aged 10+ (Scuba Divers and Junior divers) can only dive to a maximum depth of 40 feet/12m. For added safety and guidance, an extra dive master may be required, particularly during more advanced dives at Catalina Islands.
What to bring?
Preparing for Your Exciting Scuba Diving Adventure:
To ensure a seamless and enjoyable trip, here's what you should bring on board. Remember to pack your scuba diving license, towels, and cameras. Rest assured, the onboard facilities provide ample dry space to keep your belongings safe.
We recommend carrying some extra cash for tips or any additional services you might require during the excursion.
Prioritize your well-being during the journey by staying sun-safe with sunscreen and a sunhat. If you tend to get seasick, it's a good idea to take motion sickness tablets before boarding. For personalized medical advice, consulting a pharmacist or your doctor is always a wise step.
To expedite the process, kindly have your diving license ready to show the staff when completing paperwork. If needed, we can arrange pick-up from your accommodation for added convenience.
Contact our travel agency for assistance in booking your diving dream in Catalina Islands.
Cancellation Policy
Please note that reservations require a deposit for confirmation. A 48-hour notice is necessary for a refundable deposit. Cancellations made beyond this period will result in a non-refundable deposit.
Any transfer fees incurred during the trip will be the customer's responsibility.
We're here to make your diving experience smooth and enjoyable. Feel free to reach out for any further assistance!
Ready to connect with Catalina Islands?
2 tanks for $130 IVA included
Explore other amazing Tours